by Brian Halliday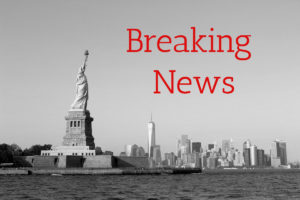 On the heels of their newly modified mission statement rejecting the United States as a nation of immigrants, instead shifting emphasis to "protecting Americans, securing the homeland, and honoring our values," U.S. Citizenship and Immigration Services (USCIS) recently issued a 7-page policy memorandum affecting placement of H-1B workers at third-party worksites.
The memo, which became effective February 22, bolsters the documentary requirements for off-site employment arrangements and represents increased scrutiny on legal, employment-based immigration programs. While many practitioners may see this merely as a pronouncement of an already-implemented form of extreme vetting, there is an aspect of this which some may be overlooking: the concept of speculative H-1B employment.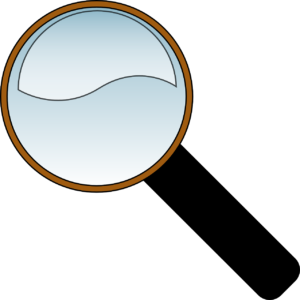 The H-1B program has historically allowed a petitioner to place an H-1B worker at third-party worksites provided certain requirements are met, such as posting of required notices, documentation of petitioner's control over the worker while off-site, detailed itineraries, contracts, work orders, etc. between the petitioner and third-party where the H-1B worker is placed.
It may be fair to say that some H-1B petitioning employers and their third-party clients/customers, have gotten lax in adequately documenting these off-site assignments, and USCIS has seized on this in the memo:
H-1B petitions do not establish a worker's eligibility for H-1B classification if they are based on speculative employment. ... Petitioners who regularly place their workers at third-party worksites often submit uncorroborated statements describing the role the H-1B beneficiary will perform at the third-party worksite. Such statements ... are often insufficient to establish by a preponderance of the evidence that the H-1B beneficiary will actually perform specialty occupation work. ...  If the petitioner does not submit corroborating evidence or otherwise demonstrate that there is a specific work assignment for the H-1B beneficiary, USCIS may deny the petition.
A few examples of off-site H-1B petitioners impacted may include those utilizing:
∙ Resident engineers and other professionals assigned to key customers' facilities;
∙ Software and other IT resources assigned to projects at end-user sites;
∙ Physicians with a given hospital system with privileges at non-related worksites, such as clinics and university research laboratories; and
∙ Accountants and auditors engaged in projects at client sites.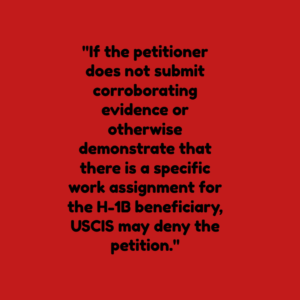 Under the new USCIS memo, third-party assignments such as these will require detailed evidentiary support for the entire term of the H-1B petition, usually three years, in order to be considered non-speculative. If an employer cannot sufficiently identify and document the duties of the assignment for an entire three-year period absent speculation, it could instead document what it can specify for a shorter period, and then subsequently file amended H-1B petitions for new third-party assignments as the details and documentation of these are developed and become available. However, this also means that what previously may have been accomplished via a single, three-year H-1B petition may become several shorter petitions in succession. This would necessarily multiply the petitioner's legal and filing fees--already in the thousands of dollars--as well as USCIS caseload. It could also lead to increased expense on the part of third party end-users.
In order to keep petitioners honest, USCIS deploys investigators in the field who pay unannounced visits to the worksites listed in H-1B petitions, who typically interview H-1B workers to make sure they are working in the position indicated in the petition, are taking direction only from the petitioner and not the third-party, are being paid the correct wage, etc. In light of the greater scrutiny alluded to in the new policy memorandum and USCIS's amended mission, the door may be opening for enforcement actions we have not seen before.
For instance, what if an H-1B worker placed off-site is found to be performing duties other than those specified in the underlying petition? Or is found to be taking direction from the third-party, and not the petitioner? In the former instance, USCIS could issue a Notice of Intent to Revoke the petition, as they have in the past, forcing the termination of the worker.  The latter scenario could conceivably trigger enforcement action against the third-party for knowingly "employing" an unauthorized worker.
How the agency will conduct itself in such circumstances going forward is an open question. The answer hinges on factors such as whether USCIS will place appropriate focus on the employer and end-user, rather than on the foreign national, or whether USCIS will ramp up enforcement or just let the memo stand without any significant change in practice.
In the last year, we have seen sharply increased pressure on the H-1B program in the form of challenges to Level 1 prevailing wages, and an unprecedented 45% issuance rate for Requests for Evidence (administrative challenges to the petition process). So, how does an employer avoid these potential pitfalls? By walking the walk, and not just talking the talk.
Make sure:
∙ H-1B petitions are fully specific in terms of duties performed for the entire validity period of the petition at all locations;
∙ Supporting evidence fully complies with the terms of the memo; and
∙ H-1B workers never deviate from the terms and conditions of the underlying H-1B petition.
Not all employers are able to predict (and thus, document) where and what a given worker may be doing a year or two or three into the future. Accordingly, we could see a marked change in off-site H-1B employment practices. For instance, if we are to assume that petitioners and their third-party clients will limit their H-1B petition validity periods to real, non-speculative projects, we might see a reduction in the overall number of cap-subject H-1B petitions filed each year. If this happens, the H-1B program itself could become a more viable and available option to U.S. employers in general.
For more information or for case specific guidance, please contact us.